Advantages of eCommerce to business
There is no doubt that eCommerce websites for business bring more profit to your business. The online business gives in-depth reports on the customer's behavior and interest and the opportunity to expand your marketplace by sitting at your desk.
It also supports other technologies like digital marketing, mobile/internet banking, etc. People tend to search on the internet before buying the actual product and if they do not find the product in a physical store they order online on an eCommerce website.
Sellers can list as many products on the platform and eCommerce companies take care of shipping and returns.
Many businesses and customers believe that e-commerce is more efficient than conventional brick-and-mortar businesses. Companies cut costs, and customers have a wide range of product options and can purchase whenever they want, from anywhere in the world.
How E-commerce Works
E-commerce allows companies and customers to buy and sell goods through the internet. The target market is far bigger and potentially located anywhere there is internet access, as opposed to marketing to a local audience near a brick-and-mortar store. 
Business-to-consumer (B2C), business-to-business (B2B), consumer-to-business (C2B), and consumer-to-consumer (C2C) are the four categories of e-commerce (C2C). Typically, when people think of e-commerce, they picture business-to-consumer (B2C) transactions.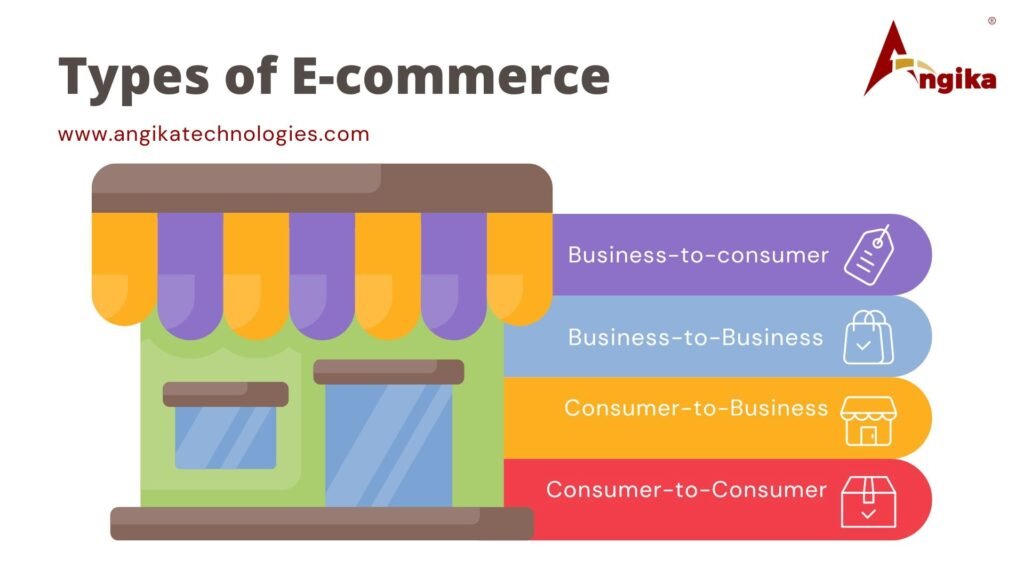 B2C e-commerce – B2C transactions take place when a company sells a product online directly to a customer. An example of B2C marketing would be if you purchased a shirt from Amazon.
B2B e-commerce – B2B e-commerce refers to selling a product by one company to another, such as cloud computing or web services.
C2B e-commerce – When a person sells goods or services to a company, this is referred to as C2B e-commerce. For instance, a small firm in need of a press release can hire a freelancer that creates promotional content and press releases for various clients and companies.
C2C e-commerce –  When one person sells a good or service to another, that is considered C2C e-commerce. You may pay for singing lessons or buy something online.
Several companies conduct their business online yet have physical locations. In-person shopping allows you to test out things and interact with a salesperson directly about goods and services without having to wait on hold. Yet, when you shop online, the store is constantly open, and there is less chance of running out of goods.
Advantages of E-Commerce for Customers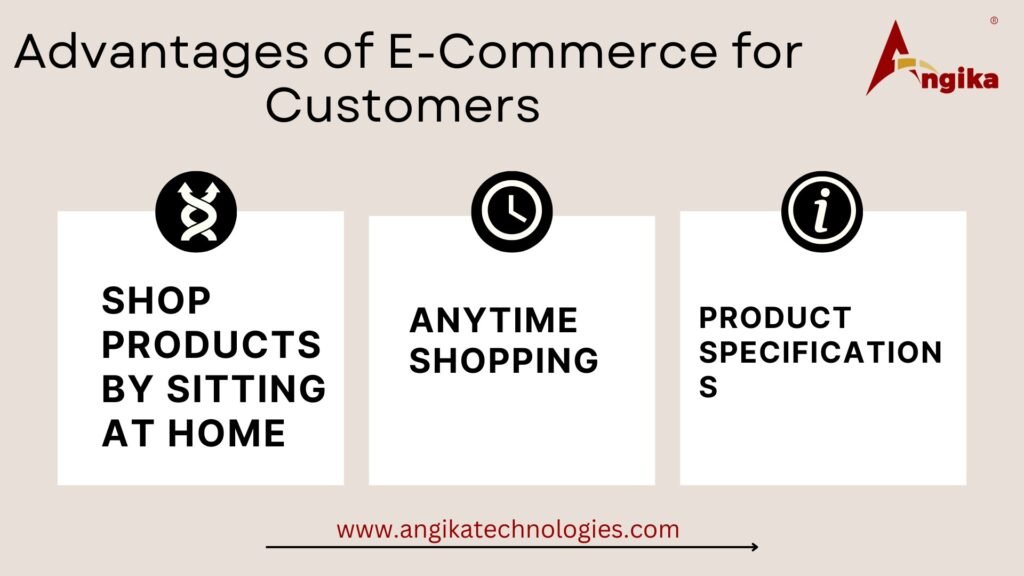 The benefits that e-commerce offers to customers are numerous.
Shop products by sitting at home
If you make your purchases online, you won't have to spend your weekends or evenings driving to various stores to run errands. You can buy things from anywhere in the country and occasionally from abroad while lounging on your couch.
Anytime shopping
If you have a flexible schedule or are just incredibly busy, you can still purchase online at any time of day. While most businesses close at night, a website can be accessed all the time.
Product Specifications
You can read customer reviews, compare similar products on other websites to see if there are less costly options, read the product description, and check any warranty information while making an online purchase.
Advantages of E-Commerce for Businesses
While online purchasing has many benefits for consumers, it also gives corporations access to user data and lower operating costs.
Less Business Cost
Rent and other costs connected with making a physical store appealing to customers are not owned by an organization that only does business online. It's possible for solo owners to manage orders on their own and to put off recruiting personnel until after their business has experienced some amount of success.
Additional clients in the pipeline
The winners from this are small businesses, whose regional reach would otherwise be limited. Search engine rankings can also improve a company's ability to compete by putting it in front of prospective customers.
Customer Data
Companies gain from e-commerce because it makes it possible for them to collect user data. Using consumer buying habits, demographics, and preferences helps businesses sell their goods more successfully. By predicting when demand for a product would be higher or lower using e-commerce data, they can reduce the likelihood of overstocking or understocking a product. Businesses may be able to use this data to streamline the purchasing processes for customers