Choosing the Right UI/UX Design Agency in Bangalore
When it comes to UI/UX design, you want a company with a track record. You want an agency that is aware of the most recent trends and technologies. Most crucial, you want an agency that knows your specific business requirements.
Choosing the proper UI/UX agency can be difficult, but it is worthwhile to take the time to locate one that is a good fit for you and your company. With so many alternatives available, you're bound to find an agency that can assist you in taking your business to the next level.
Check to see if the agency has a significant portfolio of work.
Inquire about their methodology and approach to UI/UX design.
Determine whether they provide any other services, such as user research or strategy.
Examine their team to evaluate if they are a suitable fit for your corporate culture.
What is UX/UI Design and Why Does it Matter?
UX design is the process of developing goods that give a consistent user experience, are simple to use, and are enjoyable to interact with. It's all about ensuring that your clients will find value in what you're offering. Branding, interaction design, usability testing, and many features are also part of UX design.
In fact, UX design is critical for many types of businesses and sectors. In a nutshell, user experience design, or UX, refers to the design of an application, webpage, or other digital product with usability in mind.
A poor user experience is frequently the reason that online buyers do not use a website. In addition, in more than two-thirds of situations, poor usability is the cause of online company failure. UX design is something that no brand should disregard.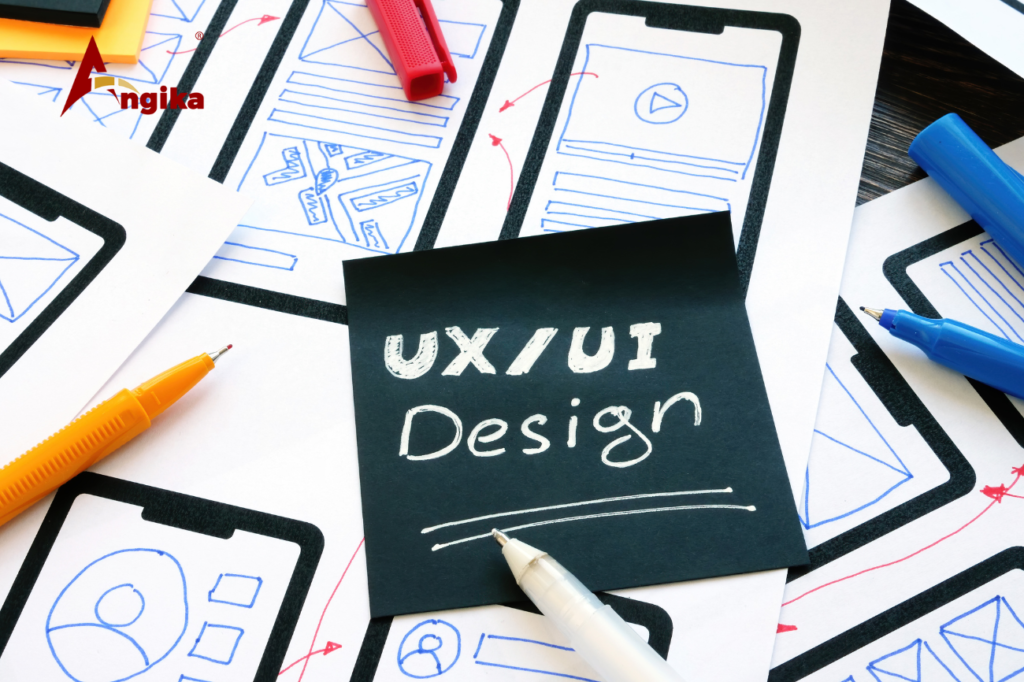 Difference between UX and UI
UX (user experience design) and UI (user interface design) are concepts that are frequently used interchangeably, and it is impossible to discuss UX design without considering the UI. They are not, however, the same thing.
The focus of user experience design is on the user's journey and how to address their problem. UX design encompasses the entire process of developing digital products while keeping the user's experience in mind during the human-computer interface and focusing on the overall sensation of connecting with your brand in mind. UX design can be found in a supermarket, automobile ergonomics, the usability of a mobile app, or a website. This does not imply that UX designers can construct the actual user experience, but they can create conditions that are more likely to lead the customer in a specific route.
UI design, also known as user interface design, refers to the design element in this UX design process that guarantees the user interface provides optimal performance to human users. The visual design of the displays a user navigates through while using a mobile app or the buttons they click when browsing a website is referred to as UI. UI design includes visual components like typography, color palettes, animations, touchpoints, and so on.
The Impact of Effective UX/UI Design
Businesses cannot afford to disregard the necessity of effective UX/UI design in today's digital age, when user experience (UX) and user interface (UI) play a critical role in determining consumer behavior. A well-designed and user-friendly digital experience has the power to create or shatter a company's success. UX/UI design holds the key to unlocking a company's full potential in a competitive marketplace, from attracting and retaining customers to improving brand perception and increasing conversion rates.
Increasing User Satisfaction and Engagement:
The purpose of UX/UI design is to provide users with a seamless and engaging experience. Businesses may develop intuitive, aesthetically beautiful, and easy-to-navigate interfaces by understanding user needs, behaviors, and preferences. A positive user experience increases engagement, time spent on a website or application, and customer happiness. Satisfied customers are more likely to return, recommend the product or service to others, and become brand ambassadors, resulting in long-term success.
Building Credibility and Trust in Your Brand:
Effective UX/UI design is critical to establishing brand credibility and confidence. A well-designed interface instills trust in users by demonstrating that the company values their time and needs. Elements such as clear and consistent branding, straightforward navigation, and responsive interactions all contribute to a positive brand perception. Positive experiences not only build trust but also distinguish the company from competitors, increasing the likelihood that people will choose their products or services over others.
Conversion Rate and Revenue Optimization:
Any company's ultimate goal is to turn users into paying customers. UX/UI design is crucial in easing this process. Conversion rates are heavily influenced by a well-designed interface that directs users seamlessly through the conversion funnel, displays appealing calls-to-action, and streamlines the checkout process. Users are more likely to complete their desired actions when they find it straightforward and fun to connect with a website or application, whether it's making a purchase, signing up for a service, or submitting personal information. A better user experience can directly convert into more income and business growth.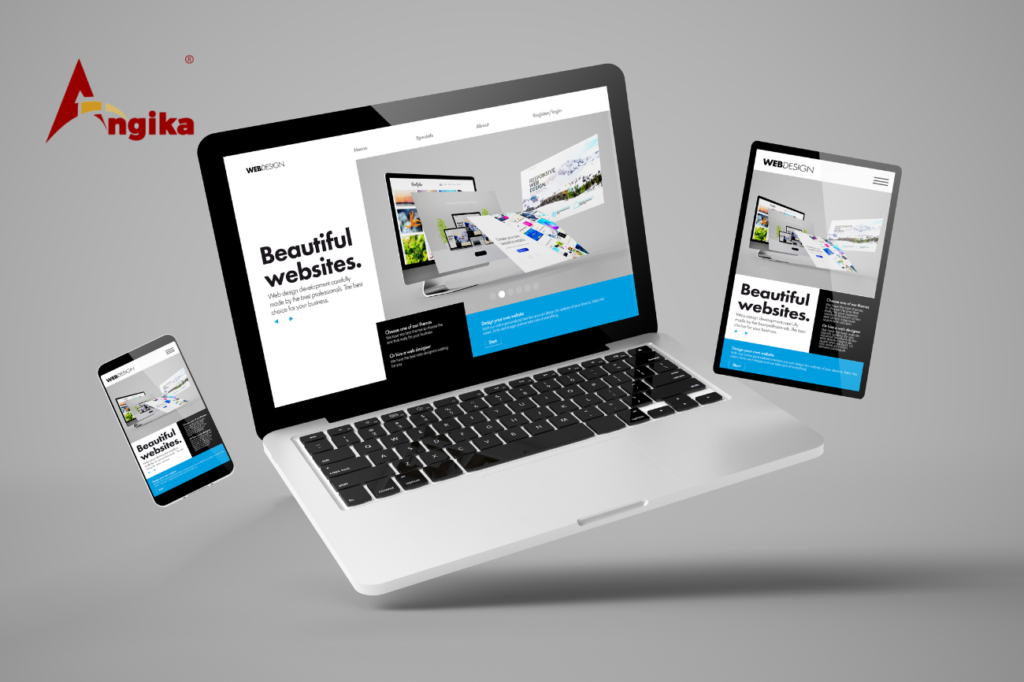 Navigating the Bangalore UX/UI Design Scene
Angika Technologies, as a top UX/UI design company in Bangalore measures design success by the joy and utility that the end users derive from the digital experiences we create.
All of the talent is in-house.
Experts in the user interface (UI) and user experience (UX).
A strong emphasis on generating enjoyable experiences
Turnaround times are very quick.
Affordable
End-user needs and experience are prioritized.
Designs woven throughout your business processes
Key Factors to Evaluate UX/UI Design Agencies
Many business owners disregard this component of developing their digital presence in favor of what is least expensive, has the quickest turnaround time, or simply looks nice. However, selecting the best UI/UX firm for your company necessitates a connection between yours and theirs. The first step is to ensure that the agency possesses these three characteristics.
Good UI Design
Good Communication
Extensive Past Experience
The Powerful Synergy of UI/UX Design
The tremendous synergy of UI/UX design and the numerous benefits it delivers to both organizations and users. So buckle up and prepare to embark on a voyage into the world of UI/UX design and its revolutionary impact.
Improved User Satisfaction
The goal of providing excellent user experiences is at the heart of UI/UX design. Designers adopt a user-centric approach to prioritize user demands, preferences, and pain points. A well-designed UI guarantees that users can navigate interfaces with ease, whereas UX design focuses on establishing intuitive interactions and smooth flows. As a result, user happiness has grown, leading to increased engagement, loyalty, and positive word-of-mouth.
Usability and accessibility have been improved.
UI/UX design is inextricably linked to usability and accessibility. Designers simplify complex interactions and make digital products more accessible to a wider audience by creating intuitive interfaces, logical information architecture, and simple navigation. A well-designed user interface allows users to easily discover what they need, decreasing annoyance and improving overall usefulness.
The synergistic mix of UI/UX design provides numerous advantages to both organizations and users. UI/UX design has a transformative impact on digital products and services, from increasing user pleasure and brand perception to improving conversion rates and lowering costs. Businesses can unlock the full potential of UI/UX design and achieve a competitive edge in today's digital market by putting users at the center of the design process and continuously iterating and optimising the user experience. So, embrace the potential of UI/UX design and set out on a journey to create extraordinary digital experiences that will leave an impression.