Use of content marketing in the eCommerce Industry
The creation and dissemination of engaging, relevant material that appeals to your target audience are known as content marketing. It entails starting and maintaining a blog to interact with readers and advertise the products and services of your company. With the use of this channel, you may communicate with potential clients, attend to their wants, and demonstrate how your offering can help them solve their issues.
Many companies are afraid to give it a try, especially smaller ones. They might think that blogging has passed its prime or that other marketing strategies are more effective. However, content marketing can be a fantastic strategy to promote your online store and bring in customers. All you need is the proper instruction, which we can provide with one of our own pieces of material.
More individuals are choosing online shopping every day over traditional stores. However, just 14.3% of sales are made online, according to a study.
In order to apply the same method to your organization, we'll lay out how to locate the ideal content kinds to write about, create realistic ranking targets that will lead to increased sales, and evaluate your success to drive better outcomes moving forward.
Why Is Content Marketing Important for E-commerce Businesses?
One of the best investments you can make in your company is content marketing.
Numerous thousands of your potential clients research things online each month before buying them.
Finding out what customers seek, producing an educational response to assist those customers, and persuading those customers to buy from you as opposed to a rival are the main objectives of content marketing.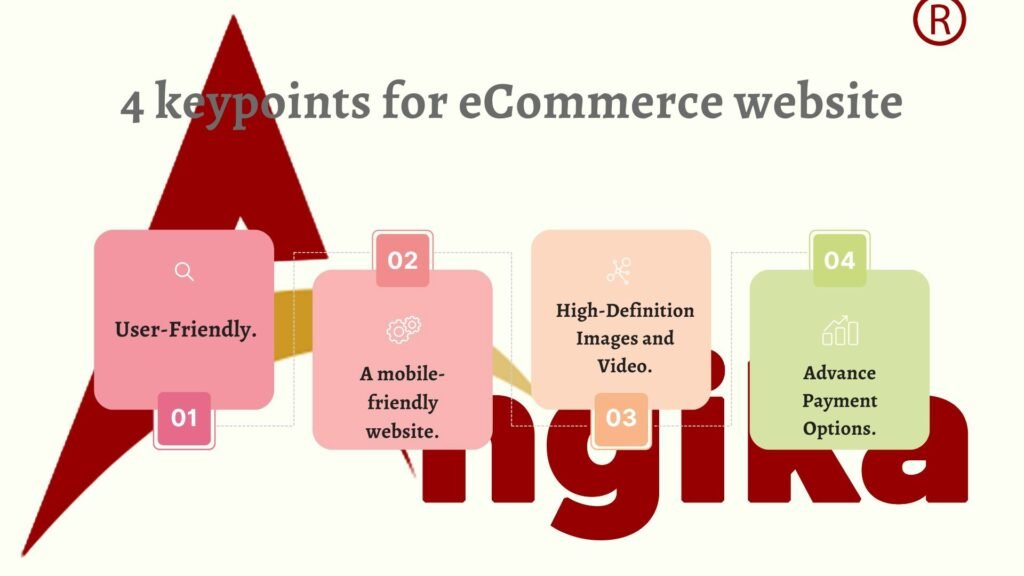 For eCommerce websites, SEO also plays a crucial role in the form of content marketing.
SEO vs Content Marketing
Content marketing and search engine optimization are much more similar than dissimilar. To aid in the expansion of e-commerce enterprises, we combine the two.
The majority of businesses define "content marketing" as creating and disseminating excellent content, and "search engine optimization" as the strategies that raise the visibility of your e-commerce website in search results.
Each has particular features. However, there is a symbiotic relationship between SEO and content marketing. Although the strategies you use will differ, both are centered on giving your clients a better website experience and giving them the solutions to their concerns
Our Effective Content Marketing Strategy for E-commerce websites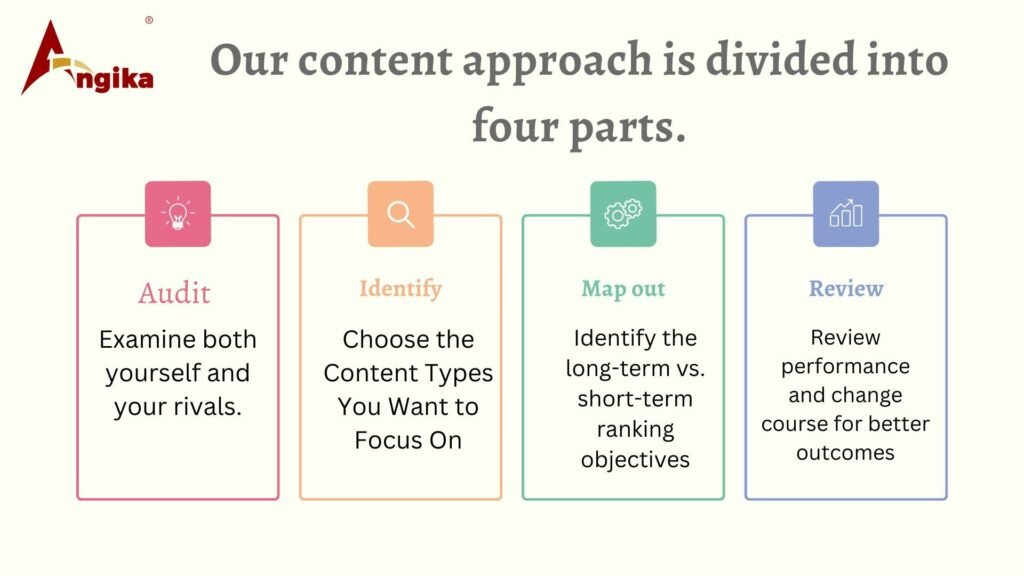 1.   Examine both yourself and your rivals.
Understanding how you compare to your competitors is the first step in expanding your business through content marketing.
Analyze your biggest competitors first. Draw a map of their best-performing content, valuable keyword rankings, most-linked pages, and other factors.
Then go through the same procedure with your e-commerce website.
2.   Choose the Content Types You Want to Focus On
The most prosperous e-commerce companies focus their content efforts on certain content objectives.
Brand awareness grows exponentially as a result of content. The larger, informative resources that your target audience looks up online are makeup awareness content.
Sales-focused content increases conversions and income.
The titans of your field are drawn to thought leadership content, which gives your brand more authority. The creation of thought leadership content requires years of industry knowledge due to its unique procedures, industry projections, and other insights.
3.   Identify the long-term vs. short-term ranking objectives.
By combining short- and long-term ranking goals, identify those content opportunities.
To determine how many high-quality links we should expect to develop to a page targeting each keyword theme in order to rank in Google's top 10 results, there are far too many automated tools at our disposal.
4.   Review performance and change course for better outcomes.
The fourth step is to evaluate your performance.
On a consultation call every month, we carry out this. For our clients, we put a lot of effort into reviewing site performance and monitoring competition activity.
Based on this data, adjust your content strategy to reduce efforts that aren't yielding the desired outcomes and increase efforts that are.
Common Errors in E-commerce Content Marketing to Avoid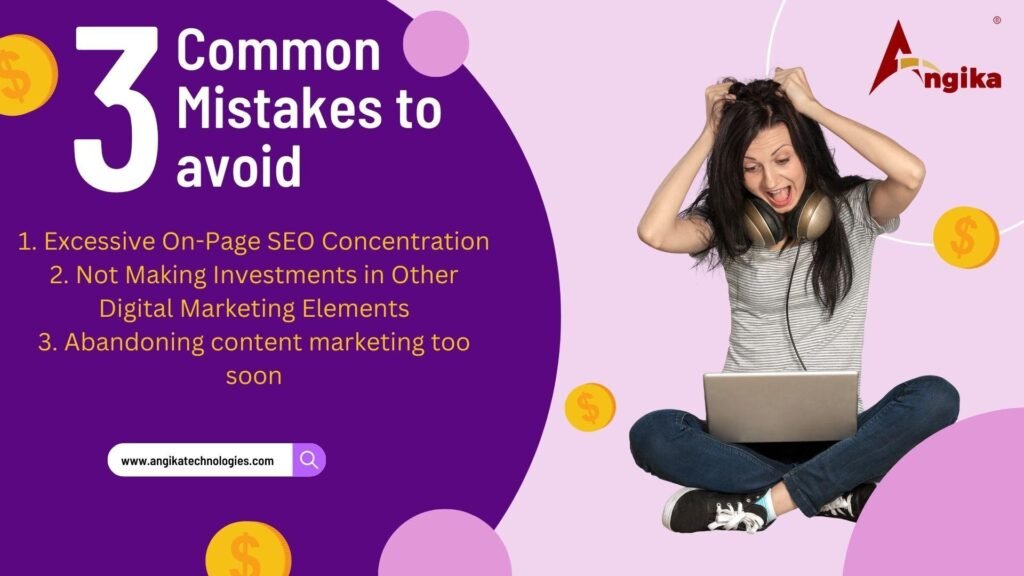 1. Excessive On-Page SEO Concentration
On-page SEO is something that many new e-commerce firms are investing in (initiatives like optimizing title tags, URL structures, header tags, etc.).
These programs significantly affect SEO. They aid search engines in comprehending the content of your website. But they don't lead to search engines acknowledging your online business as a reliable information source.
"An act of balance is SEO. Recognizing resource limitations and allocating resources based on areas that will have the biggest impact on your business are essential to great SEO."
2. Not Making Investments in Other Digital Marketing Elements
We periodically have conversations with companies that spend all of their marketing budgets on content marketing.
For e-commerce, content marketing is a fantastic long-term investment. But you should include content marketing in your marketing strategy.
Each marketing channel has advantages and disadvantages. Here are some additional
The best marketing channels to use in conjunction with content generation are email and SMS. Initial clients are drawn by content. You can frequently sell to such consumers via email or SMS.
PPC is a costly technique to acquire each customer (think Google Ads, Facebook Ads, etc.). However, this is a great investment for growing your consumer base as your SEO efforts acquire momentum (more on the SEO vs. PPC debate here).
A powerful technique for establishing a brand is social media marketing. Numerous eCommerce companies and business owners have leveraged social media to develop devoted consumer bases by positioning themselves as industry influencers.
3. Abandoning content marketing too soon
SEO and content marketing are long-term investments that boost sales exponentially.
One of the most common errors we observe e-commerce businesses making is investing in content creation for three months, not observing a discernible gain in revenue, and then deciding to abandon future content projects.
We advise our clients to anticipate low growth in months one through three, a steady increase in months four through six, and exponential growth in months seven and later.
Conclusion
One of the best investments e-commerce brands can make in their company is content marketing.
Write educational guides on the subjects your clients are interested in, including pertinent links to your product and category pages, and nudge other companies in your sector to link to your website.
It's the least alluring marketing strategy you can pursue. However, it consistently works.