Copywriting: An Ultimate Guide Before You Begin
What is Actually Copywriting?
The practice of writing content that is original, focused, and relevant in order to persuade a person or an audience is known as copywriting. Copywriters must be able to tell stories with words and connect emotionally with their readers. So, copywriting is the art of using words to persuade others to take action. It is something you can do on your own or as part of a group.
Purpose of Copywriting
Copywriting is the use of words to affect people's thoughts, feelings, or behavior. It employs language that persuades readers and generates conversions. Copywriters create material that sells and assists businesses in growing. Copywriting is most effective when it is clear, simple, and focused on the needs of the customer.
Difference between Copywriting and Content Writing
Although the terms copywriting and content writing are sometimes used interchangeably, there is a distinction between the two. Copywriting is mainly concerned with sales, but content strategy is what drives content writing. The purpose of content strategy can range from educating people to addressing their problems, engaging them, or presenting your brand's narrative.
Copywriting is a highly specialized type of writing that focuses on increasing conversions. It focuses on the final stage of the buyer's journey when they are ready to buy. Content writing, on the other hand, encompasses the entire marketing funnel and focuses on engaging potential customers and encouraging them to take action.
Copywriting is the process of creating persuasive sales letters, landing pages, video sales letters (VSLs), and emails. The purpose of copywriting is to persuade the reader to do a specific desired action, such as making a purchase or signing up for a service.
Copywriting and content writing are not the same things, in some cases these are totally different and in some points they have similarities. Copywriting is based on psychology; it's about learning how to manipulate emotions and persuade individuals to act. On the other hand, Content writing is more data-driven and focuses on SERP (search engine results page) analysis and competition analysis to determine what material performs well for specific keywords.
Similarities Between Copywriting and Content Marketing?
Storytelling is used by copywriters and content writers to promote a product, concept, or service. They understand the target audience and what will compel them to act.
Furthermore, copywriters are frequently in charge of producing headlines, calls to action, and other aspects that entice readers to keep reading.
Both require creativity, research talents, attention to detail, and exceptional communication skills.
They develop content that is consistent with the brand's voice and messaging.
Both necessitate an awareness of the buyer persona as well as the creation of meaningful and relevant content that engages the target audience. Finally, this assists businesses in meeting their marketing objectives.
Two positions necessitate a thorough awareness of what the customer wants and requires. You must be able to put yourself in the shoes of the customer and understand their motives in order to generate good copy or content.
What Is SEO Marketing Copywriting?
The words and phrases used to describe your website are the topic of SEO marketing copywriting. It is critical for SEO because it will help to boost the visibility of your website, which is necessary for overall SEO performance. In marketing copywriting, the goal is to develop a message that is relevant to the target market. The following are the essential elements of writing captivating copy:
Recognize your target audience.
Create captivating content
Adapt your messaging to the various stages of a consumer's purchasing process.
Role of Copywriting in Marketing
Copywriting is an essential component of marketing. It entails composing texts that are aimed at the customer and persuading them to buy your product or service. Copywriters often work alongside designers and marketers to create commercials, websites, product packaging, and other marketing materials.
Benefits of Copywriting
>> Improves Conversion Rates
Copywriting is essential for developing a content marketing plan that will efficiently and successfully reach today's clients. Because copywriters can deliver your message at the appropriate place and right time, it is your key to unlocking your sales potential. Businesses can increase conversions by leveraging copywriters' persuasive and interactive abilities.
>> Develops a Company Image
The goal of copywriting is to make people feel good about what they are reading. When you create exceptional content, it reflects well on your organization and contributes to the development of a strong brand identity. People will begin to regard you as an expert in your profession, which will lead to more business chances. In favor of teaching, content marketing abandons invasive commercials. Customers are more likely to respond positively to well-crafted content than they are to flashy advertisements, thus this sort of marketing is significantly more effective in the long term. As a result, companies that engage in quality copywriting and content marketing will experience a substantial return on investment over time.
>> Builds Relationships
It's no surprise that 90% of firms utilize content marketing. Creating valuable content requires a significant amount of effort. It does, however, pay off in the long term. There can be no success without loyal consumers that trust your firm and have a history of dealing with you. However, in order to answer consumers' requirements or questions, map their journeys, satisfy the marketing funnel, and so on, trust must be earned. It is impossible to achieve without the assistance of qualified copywriters. Copywriters work with words to engage their audience and make them feel welcomed, respected, and informed.
>> Improves Rankings
Effective SEO copywriting can indeed benefit your website's search engine rankings. Copywriters are frequently SEO experts who create keyword-rich copy that is fully on-page optimized. As a result, they understand how to produce great material while also meeting SEO standards. As a result, your SERPS rankings will improve, and you will obtain more qualified traffic for your products and services.
Types of Copywriting
>> Website Copywriting
The process of developing interesting copy – landing pages, blogs, product pages, and so on – is known as website content authoring. It guarantees that website visitors receive actionable information, which can then lead to conversion. It is also a terrific way to study your visitors and observe which pages they spend the most time on and what topics they are interested in.
>> Social Media Copywriting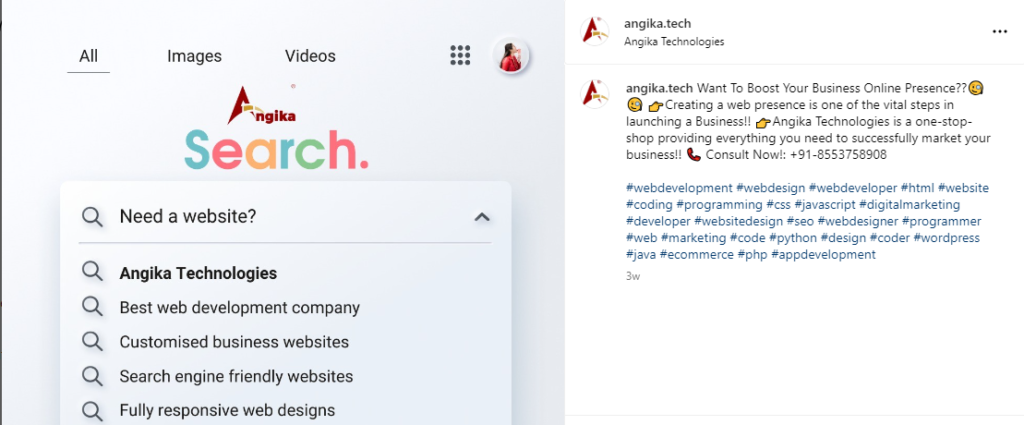 The practice of creating content that engages your audience on social media platforms is known as social media copywriting. Social media copywriters are in charge of crafting shareable, captivating, and powerful content in order to increase engagement, influence behavior, and drive sales. Social media is an excellent platform for brands to exhibit their personalities and build long-term relationships with their customers. As a brand, your aim when creating post content for Facebook should not be the same as your purpose when creating TikTok or Instagram posts. To keep customers engaged on Instagram, for example, you would want to show off products and employ innovative storytelling strategies. On the other hand, on Facebook, you would write action-oriented social media copy that pushes users to take action, such as visiting your website or purchasing a product.
>> Email Copywriting
The process of crafting an email to persuade a current or potential consumer to do a specific action, such as clicking on a link or making a purchase, is known as email copywriting. Copywriters employ their talents to craft persuasive emails that can lead to improved sales and conversions. Email copywriting differs slightly from other types of copywriting. Copywriters make the subject line and body content more effective by converting users, whether by clicking through to a landing page or making a purchase. Email copywriting is no different than other forms of marketing. Email copywriting must be compelling, relevant, and fascinating to your audience in order to be effective.
>> Ad Copywriting (Advertising Copywriter)
Branded content includes advertising copy. It replaces the typical interaction between a prospective buyer and a salesperson by emphasizing benefits and addressing any concerns. Ad content that is engaging communicates how the company's product or service may solve difficulties. To attract potential purchasers to make a purchase, ad copywriters employ compliments, cost savings, discounts, and free trials.